Last night for dinner we had orange chicken stir fry. This was a wonderful recipe and easy. I had finished it in less than a half an hour. Great for a busy school night.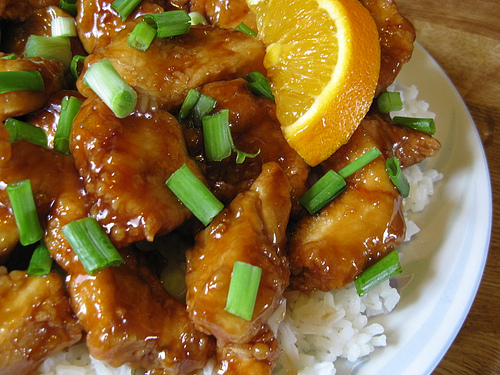 Orange Chicken
3 3/4 cups water
1 oranges, zested
2 cups rice
2 tablespoons oil
1 1/2 to 1 3/4 pounds chicken breast tenders, sliced on an angle into bite-size pieces
3 cloves garlic crushed
1 medium yellow skinned onion, sliced
1 red bell pepper, seeded, quartered and sliced
1 cup shredded carrots
6 scallions, cut on an angle into 2 inch pieces
1 cup snow peas, a couple of handfuls
Satay sauce:
4 rounded tablespoonfuls chunky peanut butter
3 tablespoons soy
3 tablespoons honey
1-inch ginger root, peeled and minced
1 clove garlic, crushed
1 teaspoon crushed red pepper flakes
1/2 orange, juiced
Garnish:
2 ounces (1/4 cup) chopped peanuts or nut topping, available on the baking aisle
2 to 3 tablespoons chopped cilantro leaves or flat-leaf parsley, for garnish
Directions
Heat water with orange zest to boiling. Add rice, return to boil, stir. Cover pot and reduce heat to simmer. Cook rice until tender, 18 minutes. Fluff with fork.
For stir-fry, heat a large nonstick skillet over high heat. Add chicken, garlic and onion, stir-fry 3 minutes. Add remaining veggies and stir-fry 5 minutes more. Heat all ingredients for sauce together in a small pot over low heat, stirring the sauce until all ingredients are combined. Transfer stir-fry to a large platter and pour sauce evenly over the chicken and vegetables. Sprinkle the platter with chopped nuts, cilantro, and basil.
Pin It